REALTOR® Magazine recently published storage, staging tips straight from top realtors in the country. Along with industry leaders, real estate agents who subscribed to Daily Real Estate News weighed in on the topic via e-mail to. Check out the tips published by RealtorMag for sprucing up your listing. Get ready to save money and get some great ideas for storage, saving money and staging. RealtorMag/Daily Real Estate News are published by the National Association of Realtors.
Living Room Staging and Setup
Most realtors will tell you that careful staging involves taking some pieces of furniture out of the room and placing them in storage. Once you have made the room look larger by decreasing the amount of furniture, look at some small details that will make an impact on potential buyers.  Suggestions from real estate agents:
Set Up a Chat Room
"Be sure that the living room furniture is positioned for conversation as well as entertainment. Potential buyers should be able to easily envision sitting in a space where they can easily talk without having to move a chair or turn completely around."
—Rana Lindhorst and Troy Schmidt, Prudential One Realty Centre, Edwardsville, Ill.
Get Rid of Carpet Dents
"Furniture often leaves indentations in the carpet. When a piece of furniture is moved, I tell my clients to put medium-sized ice cubes in the imprints. As the ice melts, it causes the compacted carpet to expand and erase those imprints."
—Shawn Moss, Century 21 C.R. O'Neil & Co.
Accent Special Features
"Place an accent by a home's feature, such as an attractive plant near a fireplace to draw the eye to it or a tall palm or two in place that directs the buyer toward another part of the home or suggests a separation of areas. This also ensures that someone often enters the home to care for it."
—Susan Cramer, HomeSmart Real Estate, Temecula, Calif.
Invoke the Outdoors
"Use a little nature in each room. I create a flow throughout the home using cuttings, flowers, dried flowers, whatever will work. Simple things, such as twigs to spell out a word or a small cutting tied with raffia around a pillow on a bed, draw the eye into the room but don't overpower it. I have even used a branch cutting to make a 'tree' in an empty corner. I try to use one piece of nature in each room to create an ongoing theme throughout the home. It works with any type of decor, whether it's modern or traditional. One important note: Always check for insects!"
—Lauren Scurlock, North Star Real Estate Inc., Virginia Beach, Va.
Bedroom and Bathroom – From Boring to Beautiful
Bedrooms can be boring. We use them for sleeping, getting dressed, clothes and necessity storage. Bedrooms become highly functional.  A potential buyer is evaluating the amount of storage space in  your closet and room, yet they're longing to have a room that also is like a relaxing retreat.  Make your bedroom appear inviting, offering that mix of functionality and magazine-quality beauty.  When getting a house ready to sell, often the things we do not use are quickly put into storage before we realize the we need to keep some of the larger pieces like beds in the rooms so that potential buyers can have an idea of room size.  To make the bedroom look really big, pull out your really large bed, store it, and replace with a smaller 'faux' bed, described below.  Check out these tips for staging a bedroom just right, from creating a fake bed while yours is in storage, to adding lovely details to replicate a luxurious, 'retreat-like' aesthetic.
Already put your stuff in storage? Build a staged 'bed' from boxes
"I have a great way to add a bed to a vacant bedroom. I arrange moving boxes into the shape of a bed, and then I dress it up with nice bedding. It takes about half an hour and it's really inexpensive."
—Kria Lacher, Meadows Group Inc., Realtors, Portland, Ore.
Make a Bed
Another trick to add a bed: "Purchase an inexpensive air mattress that has a folding frame off the floor.  Once the bedding is on and staged, it's hard to tell the air mattress from a real bed. After the home sells, all the client has to do is deflate, fold and pack."
 —Jackie Limsky, ABR®, TX Cyber Homes, Hank Layton, Texas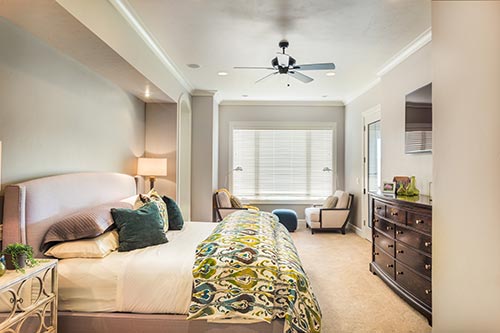 "Here is an inexpensive staging tip: Ask a local fabric shop to donate beautiful fabrics. Use it to cover the following: an air mattress with a not-so-great comforter (cover the comforter with an over-sized sheet, and then place a nice fabric in the middle or end of the bed). Or use the fabric to cover TV dinner stands, to appear as nightstands, entryway pieces, or any other decorated 'table.'"
—Jannel Lee Allen, Keller Williams Realty, Livonia, Mich.
Add Luxurious, Affordable Touches
"If the master bedroom is too boring (and most are), I have my sellers go out and buy a new luxury comforter set with bed skirt, throw pillows, matching valances, etc. We have a Burlington Coat Factory here that sells dramatic sets with rich, embellished material for around $100. The right set will totally transform a boring master bedroom into a luxury hotel suite."
—Karen Walton, Share Realty, Midlothian, Va.
Try a Dramatic Fabric Backdrop
"One surefire way to dress up a plain bedroom is to hang sheers, fabric or draperies on the wall behind the bed. (I often remove window treatments from the other windows to allow more light in and then use these for the fabric backdrop.) It serves as a headboard, visually raising the ceilings and, particularly in a master suite, adds a sense of elegance and luxury. It's inexpensive but packs a dramatic punch."
—Liz Harrison, Spruce it Up! Home Staging and Room Redesign, Salem, Ore.
Add Bathroom Elegance
"Get some decorative hand towels, tie a sheer ribbon around them, and place them on towel racks in all of the bathrooms. This does wonders to dress up the bathrooms of your listings. I also put some dried flowers and candles in complementary colors to add a little more pizzazz."
—Haley Hwang, e-pro, Coldwell Banker, Glenview, Ill.
Put a Lid on It
"The best thing you can do for your home, vacant or not, is to close all the drains, sinks, and tubs; close all the lids on all the toilets; close all the closet doors; and let all the sun in. You'll get amazing immediate results and the cost is zero dollars."
—Judith Preston, HomeSmart International, Anthem, Ariz.
Make the Old New Again
"I recently listed a big house built in 1979. In the master bathroom was a sunken cultured marble bathtub and matching his and hers marble vanity tops in swirly 1970's brown. The shower stall tile was gold and white speckled. The cost to update this bathroom would be a lot. So we got the tub and shower stall painted with epoxy paint in white and the marble tops a white with little tan specks. It was a huge improvement for about $800."
—Linda Walker, Main Street Real Estate, Garland, Texas
Overall Color and Lighting Choices
When staging your home, color and light are key. Once you have put lots of things into storage, you'll have the opportunity to move around your spaces and paint.  While you don't want your home to suddenly look sterile and boring, you want it to present itself as a 'blank canvas' for its next occupant to make it their own.  Remove and store the bright, highly patterned and colorful pieces of your own furniture and textiles that establish strong color palettes, and infuse neutral pieces instead, creating a calm and relaxing neutral space that potential buyers can envision with their own things in place. You can always add back splashes of color as one real estate agent suggests, to add interest if the place looks too bland once you've stripped down the color palette. Check out these brilliant tips from realtors about color and light:
Go Neutral
"The moment the potential buyer walks into the front door they should be 'wowed' by the rooms on either side of the entry. Paint a nice neutral khaki color allowing for the painted or stained wood work to stand out.  Make the color bold enough to make a difference, not just an off white.  Tans and khaki's 'warm' the space."
—Julie C. Preston, GRI, REALTOR®/interior designer, Indianapolis, Ind.
Add a Splash of Color Everywhere
"Currently over half the homes we list are vacant and can look very sterile in photos. We ask sellers to neutralize their wall colors and carpet, but then we discover all the photos of the interior look similar and boring. Our best staging tip is to add bright, bold colors to the kitchen and bathrooms with accessories, towels, and plants. Red is a call-to-action color. A vase with red flowers can add interest to the photo when placed on a kitchen island or bar. We like burgundy or black towels in a neutral bathroom and green silk plants in the living areas. A colorful picture over the fireplace mantle with a couple of vases on each side can make a great vignette in the family room."
—Holly Janney, Realty Executives Associates, Knoxville, Tenn.
Light It Up
"Replace the light bulbs in the home with higher wattage bulbs. Buyers like 'light and bright,' and the brighter light bulbs make all the difference in the world. Inexpensive and easy!"
—Ann Bishop, Ann & Denny Bishop Group, Realtors, Wichita Falls, Texas
Kitchen – Appealing to the Imagination and Senses
When it comes to advice for staging the kitchen, storage and planning are key.  Get rid of the things you don't use as much to showcase your storage space not the items inside.  Then set up your staged kitchen to appeal to the imagination and senses of potential buyers for your home.  Show off your kitchen's best assets, and make it into a place the truly is the heart of the home.  See what the experts suggest about staging your kitchen:
Tease Their Noses
"I believe in appealing to all five senses of a buyer, including smell. I always put something in the oven like apple pie or fresh bread."
—Chad C. Caramanna, Shadetree Realty Group Inc., Fellsmere, Fla.
Accessorize
"Adding decorative items in the kitchen can warm up the area and make it more 'cozy'.  Go to a thrift or resale shop and get great deals on glass items.  Use a tray (wood, silver, glass, etc.) with two coffee cups and a small package of Starbucks coffee displayed between the cups, and pretty paper or cloth napkins. Also, find a large glass—or pottery bowl—and fill it with individual candies, pre-packaged crackers, pretzels, etc. It looks nice and each buyer who comes through can grab a snack from the bowl. It'll help them remember your listing."
—Trina Griffith, Summers Real Estate Group, Longview, Texas
Go Green
"If your listing has some green features (EnergyStar appliances, generator, double-paned windows, bamboo flooring), continue the theme with strategically placed soy candles, homemade guest soaps, and green cleaning products under the sink area. People will notice!"
—Peggy Edwards, green, Coldwell Banker, Tampa, Fla.
Overall Decluttering, Storage and Cleanup
You already know that decluttering is key to a home staging.  Read over this expert advice and make sure you've thought through all the details when deciding which things to put away first, how to store your items, and where to put your stored things.
Expand the Closet
"One of the most overlooked areas of staging is the closet. Most people will unclutter and move boxes out of the closet but forget about the hanging clothes. I tell my clients to remove the clothes they only wear once in a while. If the closet still looks stuffed, remove more. The ideal closet will have significant space (two hangers worth) between the next hanger."
—Joseph F. San Angelo, Coldwell Banker Real Estate, Clifton, N.J.
Offer Before and After Photos
"Have owners pack everything they don't use daily and put in storage in the garage or a local storage facility. It neutralizes the home and allows buyers to picture their family living there. It creates a sense of cleanliness and order by having clean countertops, sparsely decorated walls and minimal furniture. I give sellers before and after photos of other staged homes and remind them that this is how model homes sell."
—Amy Herring, Keller Williams, Tallahassee, Fla.
The Neutral Palette
"When I first meet with potential clients planning to put their house on the market, I walk through the home with them and make a detailed list of all furniture, clothing, and miscellaneous items that should be packed away.  Staging a home requires that each space be defined, but that personal items and clutter be non-existent.  Potential buyers need to see a neutral pallet: Rooms that they can envision themselves living. I then pay for the delivery and removal of a Smartbox portable storage unit as part of my marketing strategy."
—Carrie Mock, Long and Foster Real Estate, Annapolis, Md.
Nix Those Personal Photos
"Make sure there are no personal photos to be seen anywhere in your listing. Pack them up or put them away. Buyers tend to stop and see who lives there, which takes them away from seeing the home's attributes!"
—Kyle Davis, RE/MAX Select Properties Inc., Ashburn, Va.
Don't Let Furniture Get in the Way
"I think one of my top staging tips is to arrange the furniture so that it does not block any of the home's features and allows for easy traffic flow. Sometimes that means removing some furniture—the more furniture in a room, the smaller the room looks."
—Jean Risha, Greenwood King Properties, Houston, Texas
Curb Appeal is Always First
The first impression of potential buyers when driving up to your property is the most important thing.  You actually need to store, stage and set up the yard and porch for a welcoming appearance.  Decluttering a yard is actually called for in many cases.  Store your boat, extra things like recreational vehicles, and large equipment in a local storage unit like Patterson's Self Storage in Waxhaw. Use these tips as part of your curb appeal checklist:
Say 'Welcome Home'
"There's nothing more pleasing than a front step or porch with bright and cheerful planters filled with plants and flowers. It says 'welcome to your new home!'"
—Carol Anderson, ABR, GREEN, Coastline Realty, Cape May, N.J.
Create a Curb Appeal Checklist
"A top item on the staging list should be curb appeal items (you can't get people in if they don't like the drive-by): Trim shrubs, fix peeling paint, and add greens or planters near the entrance."
—Lori Geraci, Bannon & Hebert Properties LLC, Middlebury, Conn.
Entice Them at the Entrance
"Tighten any loose doors or cabinets and re-stain, paint, or varnish doors. Paint the trim on floors and ceilings. Also, paint outside trims and nicks on the house, especially where clients come into the house."
—Rhonda Burns, Windermere Real Estate, Wentachee, Wash.
Stage the Lawn
"In San Antonio the grass is usually parched by the end of the summer. For my fall listings, I purchase a bag of winter rye grass seed and apply it generously to dried-out lawns of my listings. I advice sellers to water the grass frequently for a few weeks until it begins to sprout. Soon the lawn is emerald green, and it stays that way through the end of April, at which time the regular grass should be recovering."
—Larry Stewart, Deborah Myers Real Estate Inc., San Antonio, Texas
A Few More Thoughtful Staging / Storage / Moving Ideas from the Experts
Create a DVD of the Home
"Have the sellers make a short DVD of fun times that they had in the home and surrounding area. Make the DVD run on a loop on the TV and use it to show potential buyers the area, neighborhood amenities, proximity to parks museums, etc. It is easy and cost effective."
–Scott Holland, Top100AZhomes.com, Phoenix
Frame a Local Scene
"Frame pictures from inexpensive calendars and place them throughout the home. Look for pictures that reflect nature and themes for the local area. We don't want buyers to wish they were in Aruba while looking at a home in snowy Michigan!"
—Jannel Lee Allen, Keller Williams Realty, Livonia, Mich.
Showcase Designer Bags
"I stagger colorful, logo, designer, retail bags in different sizes and shapes and place them on the shelves in the walk-in closets in the master bedroom, linen closet as well as other closets. It creates a fun visual and people think it is unique and clever. Plus, it is basically free. You just tell the stores that you are staging your seller's home and would love to advertise their company with their bags. They love the idea of getting free publicity.  I put crumpled up tissue in the bag to give them body. I use bags from Neiman Marcus, Coldwater Creek, Chico's, Crate & Barrel, Pier 1, St. John, Coach, Victoria Secret, and Nordstrom. Also, since the bags can lie flat, the storage factor is very efficient."
—Robyn Starr Dezendorf, Keller Williams Realty Portland Premiere, Portland, Ore.
Customize the Art
"Buy a couple of iron easels and place them in different rooms. On the easel, place a mirror or framed art that complements the colors of the walls or floors. Or, prepare a large poster with photos and additional information about the house. This is inexpensive, yet provides a focal point of interest in the room."
—Trina Griffith, Summers Real Estate Group, Longview, Texas
 Redo the Doghouse
"Freshen and consolidate pet areas. Purchase new bowls, etc., to indicate upkeep and freshness. Choose one place to house pet beds and litter boxes; the laundry or utility rooms or garage space may be appropriate."
—Mae Thompson, Prudential One Realty Centre, Edwardsville, Ill.
Have Sellers Write a Letter
"Part of staging is conveying the pleasures of living in the marketed home. I have sellers write a one-page letter to the prospective buyers detailing less evident benefits, such as the annual Easter egg hunt at the end of the cul-de-sac, the amazing sunrise from the breakfast nook window, and the fact that the school bus stops at the corner. I copy these on pretty paper and put them at the front of the property profile book on the kitchen counter."
—Cari Pemberton, Buy, Sell, Organize & Stage, Colorado Springs, Colo.
Make It Memorable
"I have two things that I do when staging a home. First, a wreath on the front door (that I make). The wreath stays with the house for the new owners. Second, I hang a black nightgown on the master bathroom door. The buyer (husband) always remembers that house!"
—Cissy Snyder, Svetlik Real Estate, Sumter, S.C.
At Patterson's Self Storage, we'd like to be part of your moving transition and we take pride in helping make things easier on people as they make a move. Storage is often a big part of getting settled in a new place. You can trust us to help you store your things during your move and beyond if you cannot keep all of your personal belongings on your residential property.  Thanks for calling Patterson's Self Storage!