Things you need to consider before choosing your Waxhaw storage Facility:
If you're looking for a Waxhaw storage facility to store your personal items or commercial equipment, Patterson's Self Storage is a great choice! While there are several places around town to store your belongings, we that you review this list of helpful tips to make your decision about which Waxhaw Storage facility is right for you.
1) Know that all storage facilities are not the same.
You have several options from which to choose as you're looking for Waxhaw storage units and mini warehouse facilities. Make sure you understand the differences between facilities in security measures, cleanliness, temperature control, customer service, and availability of moving trucks and packing materials. Keeping these issues in the forefront of your mind will greatly help you choose the right storage facility.
2) Keep in mind:  Security gates and padlocks alone don't necessarily keep things from being stolen at storage facilities. Make sure your storage unit is monitored under 24 hour surveillance.
Studies show that most self-storage burglaries are the result of an "inside job" by criminals masquerading as customers. Traditionally, burglars rent a storage unit just like you're considering doing, then wait for an opportune time to go to work. Once inside a facility, a criminal could victimize fellow customers of the warehouse if there is not surveillance monitoring within the facility.
So what can you do to avoid an 'inside' theft job? Most facilities these days have at least a few video cameras on the site. Make sure that the facility you rent from has more than just a few, and that their cameras are covering as much of the property as possible. Finally, make sure that the video surveillance is monitored 24 hours a day. At Patterson's, we take this measure to assure our customers that we're doing our best to protect their property.
Asking questions regarding these matters will tell you a lot about each facility's commitment to your peace of mind. If your questions are not answered sufficiently, you may be better off looking elsewhere. At Patterson's we let it be known to all customers that state-of-the-art surveillance equipment is on our property to avoid 'inside' theft.
3) Beware of the "MOVE IN" discount and other changing rates that some facilities offer new customers.
Some facilities make it a practice to move you in a low rate only to raise the rent a couple of months later. Before you decide to rent, ask the manager how often they raise their rates, and for how long they guarantee your rent not to change. At Patterson's Self Storage, we show our rates on our website.  At Patterson's, our goal is to keep our rates consistent for a long time. Rates will eventually change as cost of living in this area and cost of maintaining our business go up over time, but we make sure customers are notified and we try not to let this occur often or unreasonably.   At Patterson's Self Storage, we do not use quick offers or 'bait and switch' tactics to influence new business.
4) If you have valuables that need to be kept at a consistent temperature, make sure the 'Climate Controlled' option is available at the Waxhaw storage facility you're considering
In our North Carolina climate, humidity is no stranger, and constant changes in temperature and air moisture can actually damage wooden furniture, certain fabrics, and other items. It is impossible to guarantee protection against mildew and moisture caused by the ever-changing temperatures inside of a standard, basic storage unit. To protect your items from the extreme temperature changes that are common in most Waxhaw storage facilities, consider using "Climate Controlled" unit designed to keep a more consistent climate and temperature, thus offering extra protection of your articles from the elements.
5) Plan strategically prior to moving your things into a storage unit.
Don't waste your money by renting more space than is really necessary. Since storage units come in a variety of sizes, you should do all you possibly can to pay for only the space you need, especially if you do not need frequent access to the space.
Use the chart on our website at pattersonsselfstorage.com to size of the space you will need. GO HERE TO VIEW OUR CHART
Here are some more valuable space saving tips:
Tables, beds, lawnmowers, and other large items should be disassembled, if possible
Leave a center aisle for easy access to your goods.
Store frequently used items at the front of your unit so you can get to them easily.
Stand sofas and mattresses on end on a pallet or a plastic sheet, and use protective covers.
Stack boxes on dressers and use dresser drawers for folded clothing and smaller delicate items.
Store chairs inverted seat-to-seat.
Fill containers to capacity or fill extra pockets of space with packing material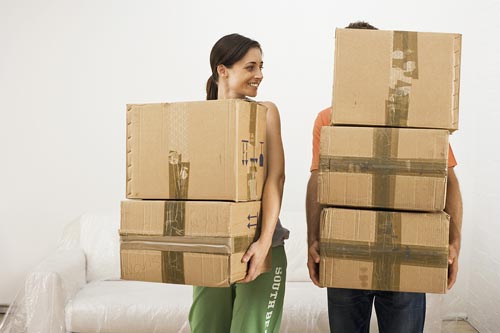 Wrap glasses and dishes individually – use special dishpack boxes if possible.
Make use of bubble wrap, foam sheets, packing peanuts and paper when packing any other glass items such as mirrors, lamps, figurines, etc.
Pack heavy items such as books in smaller boxes because of their weight.
Make sure heavier boxes are at the bottom of any stacking you do.
Remember to keep refrigerator doors slightly ajar, with an open box of baking soda inside.
Keep greasy items such as tools, lawnmowers, etc. away from furniture to avoid oil staining.
Do not use newsprint to back anything that could be stained by ink.
Stack lighter boxes on top of bigger, heavier ones.
6) Insurance on your property is YOUR responsibility.
Any Waxhaw storage facility you visit is going to say they are not responsible for the contents of your unit. It is always a good idea to insure the goods you are intending to store. Who do we recommend? Waxhaw Insurance Agency, located near downtown Waxhaw.  If a storage facility collects the premium from you directly, they usually have a financial interest in doing so. Before you buy insurance from the manager at a storage facility, check with your own agent, because sometimes your homeowner's or renter's policy will cover you for no extra cost. Make sure your valuables and personal property are insured before you store them anywhere! 
We hope these helpful tips will be of use to you as you search for the right Waxhaw storage facility for you. At Patterson's Self Storage we do all we can do to keep up with the industry standards and even go beyond the standard minimum of service to please and help our customers.  We do all we can to keep your property safe and we ask that you consider some of the tips listed above to help yourself cut cost and make the right decision when it comes to storing  your things.